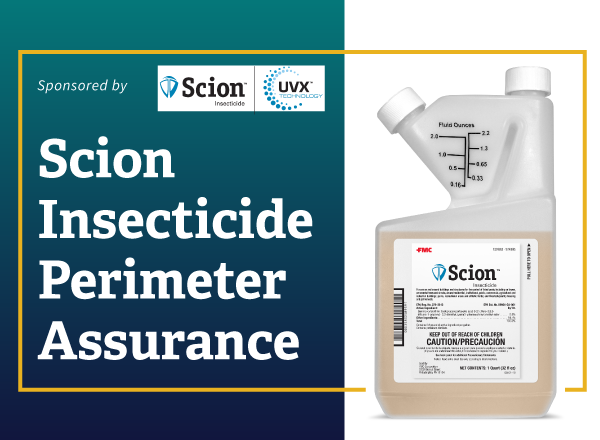 Keep Pests at Bay All Year Long
FMC guarantees 90 days of no retreatments* after a Scion Insecticide with UVX Technology exterior perimeter barrier application1 on a recurring residential pest management service2 done in accordance with the best management practices outlined and made within the program period. If any retreatment is required during the 90-day period, FMC will provide the amount of Scion insecticide needed to make a reapplication to the treated area as outlined in the best management practices section of this program.
Pre-application Inspection
Always read and follow all label instructions.
Inspect premises for signs of pest activity and potential pest entry points. Correct these conditions as appropriate.
Inspect premises for conditions conducive to pest activity. Such conditions may include vegetation contacting the foundation. Take appropriate measures to correct these conditions.
Ensure the application area is free of children and pets.
Ensure the application area is free of debris.
Mixing
Dilute Scion Insecticide with water for application as a coarse spray for crack and crevice or spot and general surface (nonfood/non-feed areas only) treatments. Fill applicator tank with the desired volume of water and add Scion Insecticide. Close and shake before use to ensure proper mixing. Shake or re-agitate applicator tank before use if application is interrupted. Mix only amount of treatment volume as required. For applications to be made as part of the assurance program mix with an appropriate water volume to reach pest activity areas.
Application
Apply finished solution using backpack or tank spray equipment. Make application in a continual band around building foundations and around windows, doors, service line entrances, eaves, vents, and other potential pest entry points. Around building foundations, apply up to 3 ft. up the structure and 10 ft. out from the structure. See label for full application directions. Always read and follow label directions, precautions, and restrictions for use.
Terms and Conditions
Any pest management professional licensed or certified by an appropriate state, local or tribal agency agrees to provide a service ticket with the following information should a retreatment be necessary within the 90-day period.
Use rate i.e., ounces of concentrate per finished gallon
The amount of finished product (gallons) per treatment per customer
The approximate treated area (sq ft) per treatment per customer
Date, time and location of service
Pest(s) targeted by initial treatment and pest(s) to be targeted during retreatment
If a PMP who has followed all label instructions and the requirements of the assurance program receives a complaint from a customer requiring a retreatment due to an active infestation, the PMP must contact their FMC market specialist within 10 business days of the retreatment. If FMC determines that a retreatment is valid, FMC will provide the appropriate quantity of Scion insecticide to cover the retreatment of the account. Retreatment may not occur less than 28 days after the initial application. FMC reserves the right to investigate any performance complaint, and verify any purchases made by a PMP and/or modify or discontinue this program at any time.
Proof of purchase of 32 or 20 fl oz Sion insecticide product will be required. Until June 30, 2022 FMC True Champions can access major savings on Scion insecticide. Enrolling is free — https://www.fmctruechampions.com/

*Guarantee is limited to treatments targeting the following pests: ants', cockroaches, crickets, earwigs, and spiders. 1. "Exterior perimeter barrier application" is defined as an application of insecticide made in a continuous band around the foundation of the structure and any potential pest entry points as allowed by the label. 2."Recurring residential pest management services" is defined as a general insect control service with a contract that specifies multiple, recurrent inspections and insecticide applications at a residential site. 3. Applications for severe infestations of carpenter ants, ghost ants, imported fire ants and super colony ants (such as Argentine ants) must be done as part of a comprehensive integrated pest management program.
---
View other articles in this category: