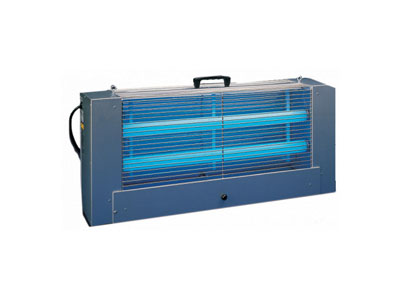 Gilbert 220 Guerrilla Electrocutor Fly Light is a portable fly trap that can be wall mounted or ceiling hung if needed. Comes with an open top design and mar-proof feet, specifically made for convenient use and transport of the product on areas where flies are.

It is strategically designed to be horizontally placed on walls and low on floors to easily and effectively reach flies. This lightweight fly trap is polished in anodized aluminum to add color and improve its strength.

Includes two, F20T12/350BL 20 watt attractant lamps, eyebolts for ceiling hung installation, spring-locked catch tray, and six-foot 3-wire grounded power cord.

For easy access when cleaning and replacing of lamps, it comes with a double nickel-chromed guard door that has an interlock switch that shuts off automatically.

FIVE YEAR WARRANTY (Excluding lamps only)!

Dimensions: 29 1/8" x 13 3/4" x 7 3/4" Weight: 19 lbs., Ship Wt: 24 lbs.