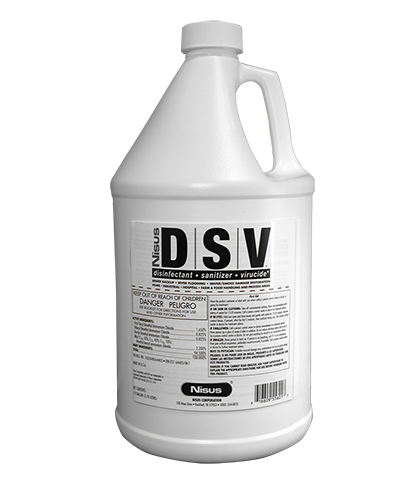 Use in all areas to disinfect and sanitize. Also use to create a safe work environment and protect employees from hantavirus, avian flu and other gross soils.

Nisus DSV is a disinfectant, sanitizer and virucide that is specially formulated as a concentrate for the pest management industry. It was first created to assist pest management professionals to help prevent contamination of structures after hurricane Katrina caused massive flooding in New Orleans, LA. It has since been used by PMPs to treat schools to help prevent flu out breaks and to disinfect fecal and urine areas of high rodent activity in attics and commercial buildings. DSV has a very extensive and broad label to cover a number of PMP problems.

Listed pests: Can be applied for protection against hantavirus, avian influenza, hepatitis B and C, Influenza A (H1N1), HIV, Salmonella, and other bacterial, viruses and fungal organisms.