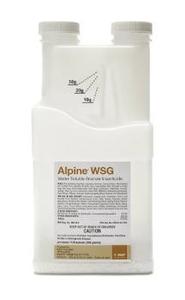 You have a new ally in the fight against flies

Flies are vectors for disease and can potentially impact profitability. Alpine® WSG Water Soluble Granule insecticide is a fast-acting solution that has been shown to kill or knockdown 70% of flies in just 30 seconds. Its active ingredient, dinotefuran, has been granted Reduced Risk status by the EPA, both for use in public health and food handling establishments.

For greater convenience, Alpine® WSG insecticide comes in a new 200-gram bottle as well as a 500-gram bottle.