One of the most admirable aspects of the pest management industry is the role PMP's serve in protecting our food supply from pests and the contaminants vectored by them. Every day, thousands of PMPs across the country help protect our food supply through the service they provide to food processing facilities. An effective control program starts with a thorough inspection, customer communication, documentation, corrective/preventive action plans, and constant evaluation as to how successful control efforts have been. While entire seminars can be given on the topic of pest management in food processing, I wanted to focus on a recent trend in the marketplace – the introduction of "smart" technology in pest management.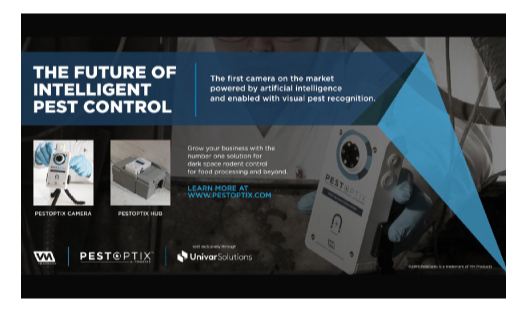 The rate at which technology has progressed into our everyday lives has been astonishing. Technological innovations in pest management have been no exception. The marketplace has seen an influx of "smart" pest management devices over the past few years, some of which have the capability to automatically capture and log pest activity, identify what type of pest you're dealing with, and create detailed reports that can be used for documentation and quality control.
Automating the reporting process and having pest activity available at your fingertips will be a game-changer to providing pest management in food processing facilities. Early adopters that implement these technologies into their business offerings will help separate themselves from the competition. As audit requirements have become increasingly stringent over the years, these types of technologies will likely continue to become more widespread as we move into the new decade. We are at a unique crossroads in the industry right now. Those that embrace the new technology entering the market will position themselves to provide a better service to their customers and ultimately, win more business.
As more and more manufacturers introduce their "smart" devices to the market, Veseris is here to help you identify the best options for your business. Please reach out to your local Veseris Sales Representative to learn more about how you can use this new technology to help your business grow.
BONUS CONTENT
The Challenge: Differentiating yourself in the complex world of pest management in food processing facilities.
The Solution: Implement a cutting-edge pest technology system that can automate recordkeeping, identify hotspots, and prove the effectiveness of your integrated pest management plan.
The Result: Provide a better service that will ultimately help you win more business.
Chris White is a Sales Manager with Veseris based in Los Angeles.
For any questions or comments on how to get started in food processing visit PestWeb.com/grow or email Chris White chris.white@univarsolutions.com
---
View other articles in this category: