At Univar, we don't like to make special announcements about every single company update. We try to reserve that for truly important news… something we think our customers want and need to know right now.
Today happens to be one of those "big news" days. If you haven't already noticed, we've just finished rebuilding PestWeb from the ground up. It's hard to imagine what could be bigger than that.
This is huge for us on the Univar side since we've taken months to research, design, and develop a new site that does everything PestWeb currently does, except better. Every change was based on existing user data and your feedback — from the overall design and site features to specific navigation improvements.
We know that a change this large carries a lot of weight for professionals like you, too. Our website has been an internet and industry staple for longer than Google has, so we know you have many expectations about what it should and shouldn't do.
So let's talk about what's new, what's the same, and what you can expect from the new PestWeb.
If it isn't broken...
PestWeb is a site professionals and businesses depend on, so wherever possible we stayed with what is already working. At the highest level, PestWeb still does all the core tasks you have always expected.
We also wanted the transition to be easy, so user account information has been carried over automatically. Your username, password, and all your training and order history will work as soon as you sign in to the updated website.
Getting around the site
An easy way to see the largest changes to PestWeb is to start with the site's navigation bar. You'll notice it has been streamlined from the previous version of PestWeb, and is now focused on just a handful of important subjects.

If you're researching or buying products, you'll find what you need under PRODUCTS. With DOCUMENTS, you'll see we've retooled the product document center for fast access to labels & SDS.
We've greatly expanded the information available about PestWeb and Univar on ABOUT and its related pages. On top of all this, PROTRAINING has gotten a large update, now pulling a full technical course catalog into the public-facing part of the PestWeb site.
Other features that were a little less frequently used now live in the PestWeb footer navigation. Links for access to Pest Info, Classifieds, Joining PestWeb, and other functions can be opened in one click here.

Featuring, focusing, and finding
A lot of the work we've done with the PestWeb redesign is cutting down on visual clutter to make it easier for customers to see what's being offered. There are far fewer links and promotions peppering the website overall — they've been moved to much more focused, detailed feature areas.

For instance, you can see a product spotlight on the home page, as well as featured promotions and products on the product main page. We want you to be able to see what's important up front, with the option to click through to see more promotions, if you prefer.
You may notice that some of the sub-navigation dropdown menus you've used before have changed or been removed. Don't worry — these options are still around, but primarily live on the main category pages they're associated with now. For instance, everything that used to be a PRODUCT drop-down before is now a category on the PRODUCT page itself.

This change eliminates the need to continually backtrack or click on the top menu for a product search, and should make finding what you're looking for faster and easier. You can now quickly click through different filters if you can't seem to pin down the product you need. If that doesn't work, you can still use the universal search bar in the top corner of the website to find an individual product.

On the product documents side, it's even simpler. This page has a single search bar you can use to find labels & SDS for anything on PestWeb. In addition to instant results, users who are signed into their PestWeb accounts will also see favorite and recently purchased items. This should cut a lot of time off of your most frequent document searches.
All About You
One of the biggest areas of change to PestWeb has been the user account and manager dashboard section.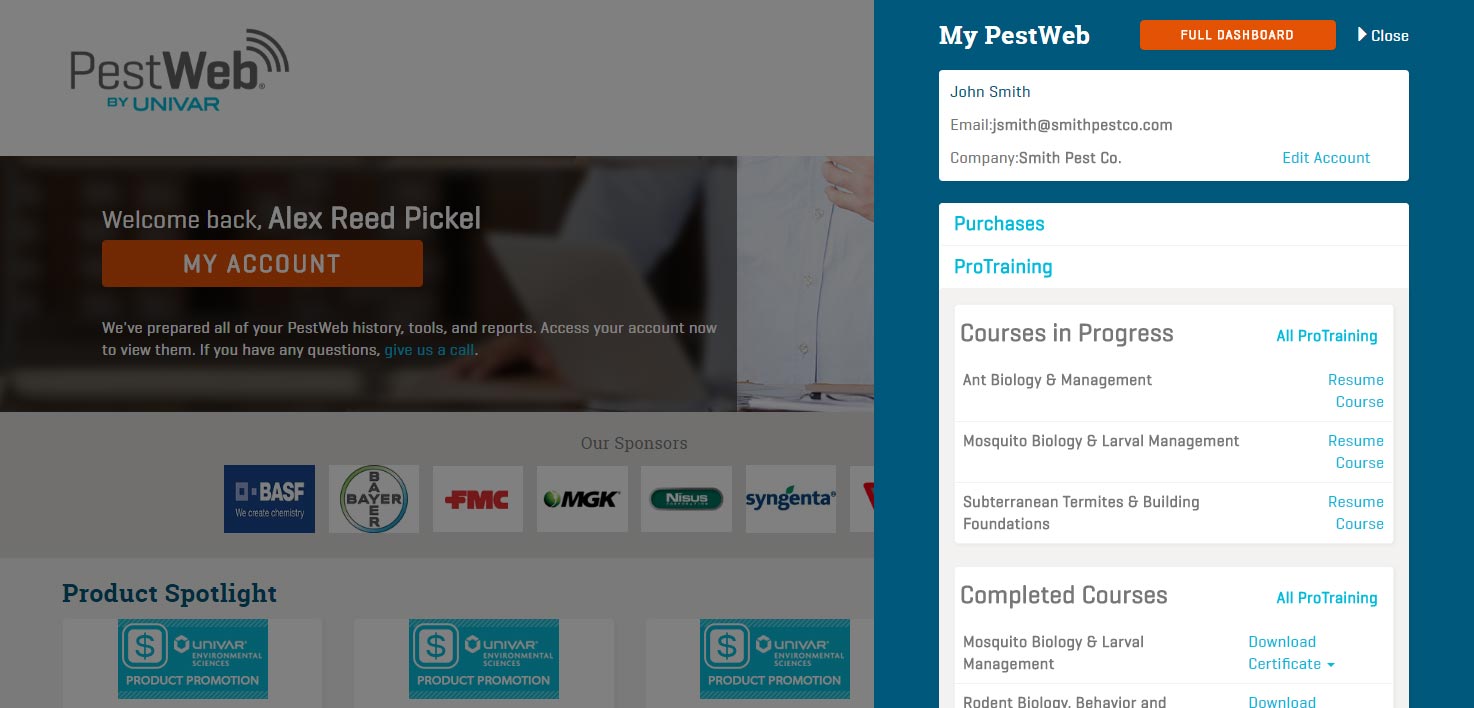 Similar to many websites, you can access your account information from the "person" icon in PestWeb's top-right corner. When you click this icon, you'll first get access to a universal sliding popout that gives you a quick look at vital information. Managers will get a more detailed breakdown of recent company activity, but all users will receive a basic snapshot of their account status.

From here, you can click through to the complete dashboard, which will open a new page with a special sub-navigation for managing purchases, ProTraining, user permissions, and managing classified ads. Here, you'll see that we've carried over all the previous information, but redesigned each section to make sorting and overview tools more quickly accessible and legible. The main changes you'll notice all revolve around the new top-focused navigation, as well as the top-aligned search and filtering tools available in most sections.
Polishing things up
Throughout the PestWeb redesign process, we've implemented dozens of changes that will make the site faster and easier to use on a variety of devices. From increased legibility and styling consistency to clearer product overviews and company information pages, everything has been carefully considered to give professionals a new, higher standard of functionality.
One exciting thing to keep in mind is that this relaunch is just the first phase of a series of big improvements we already have planned for PestWeb. Our team has begun work on several large features we are looking to roll out throughout the rest of 2017 and into 2018 that will further improve search, navigation, and other areas of PestWeb. We'll be paying close attention to your feedback and site usage statistics to see how you're enjoying the new PestWeb, and where we should make ongoing tweaks.
Of course, we know you might have questions. And as meticulous as we've been, we know that a few minor bugs might arise early on. So if you need help with the new PestWeb, or want to share your feedback, don't hesitate to reach out to us at Contact@PestWeb.com. In the meantime, please explore PestWeb and see for yourself how much things have improved!
---
View other articles in this category: