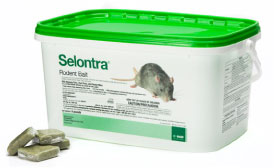 In movies and cartoons, rats and mice are often depicted as adorable characters. In reality, they are harmful pests. They carry over 35 diseases and 200 human pathogens1,2 making them a significant public health risk to your commercial and residential customers. Furthermore, enormous economic damage and health-related problems are caused in the US annually through failed inspections, contaminated food, destroyed property and damaged reputations for public establishments.
As the leading manufacturer of pest management solutions, BASF recognizes the seriousness of the rodent threat as well as the challenges of controlling rats and mice. We are proud to introduce Selontra® rodent bait, a patented soft bait formulation that offers PMPs, a new level of fast, effective and efficient rodent control.
BASF spent the last five years researching and developing a breakthrough formulation that contains the active ingredient in Selontra, cholecalciferol, into a palatable3 bait matrix. Thanks to the patented polyolefin film that protects the bait in a perforated wrapper, rats and mice can easily recognize Selontra as an attractive bait even when other appealing food sources are present. In a choice feeding test, rodents preferred Selontra to a major fast food chain's all-beef hamburger. It proved to be both palatable and efficacious against Norway Rats with a palatability ratio of 1.324.
PMPs benefit from using Selontra rodent bait in three ways. First, fast colony kill. In US field trials, Selontra proved to control rat and mouse infestations in as few as seven days5. Second, effective resistance management tool. The need for innovative technologies to combat rodent resistance is real. Fortunately, Selontra rodent bait contains an active ingredient effective at controlling rats and mice strains resistant to anticoagulant rodenticides6. Third, efficient use of bait. Selontra's active ingredient, cholecalciferol, demonstrates a stop feed action, which causes rodents to lose their appetite. Rodents eat only enough for a lethal dose, allowing the subdominant rodents to feed sooner7. As a result, PMPs benefit from shortened baiting programs and less bait required to kill populations. When it comes down to rodent control, Selontra sets itself apart and delivers true value to your business.
3 Controls infestations in 7 days in US Field Trials — Indiana Grain Farm (2017); NC Pig Farm (2016)
4 Source: Internal BASF Study on Norway Rats (2017)
5 Controls infestations in 7 days in US Field Trials — Indiana Grain Farm (2017); NC Pig Farm (2016)
6 E.F. Marshall. Cholecalciferol: A Unique Toxicant for Rodent Control. Proceedings of the Eleventh Vertebrate Pest Conference 1984. p. 95-98
7 Prescott, C.V., El-Amin, Vusa, and Smith, R.H. "Calciferols and Bait Shyness in the Laboratory Rat". Proceedings of the Fifteenth Vertebrate Pest Conference 1992. Paper 64. Whisson, Desley, "Rodenticides for Control of Norway Rats, Roof Rats, and House Mice". University of California Cooperative Extension, Poultry Fact Sheet No. 23, 1996
Always read and follow label instructions. Selontra® is a registered trademark of BASF. © 2019 BASF Corporation. All Rights Reserved.
---
View other articles in this category: