Technically Speaking
Repel Animal Pests: Zero In and Get on Target
By Bob Borgwat/Enviro Protection Industries Company, Inc. (EPIC)
Keeping unwanted animals off the landscapes of homes, golf courses, civic centers, schools, parks and any green environments where animals roam is a tough job. But somebody's has to do it, and they have to do it right!
Across North America, wild animals cause huge public safety and health issues, as well as property and plant damage for homeowners, municipalities, campuses, athletic facilities and golf courses – anywhere landscapes are maintained. Deer, rabbits, moles, voles, geese, snakes, skunks, cats, regional pests such as armadillos and wild hogs – all of these, even iguanas! – learn quickly how to live among expanding cities and populations.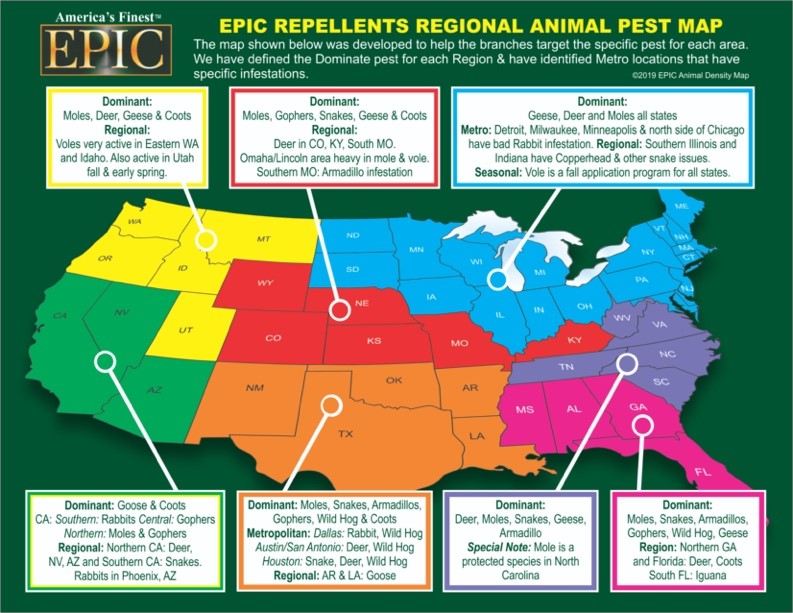 As these animals increase in population, their nuisance grows where they learn to live among people but must be repelled. Getting the job done right means using repellents that are compatible with environmental systems, safe to handle and apply, long-lasting and – most importantly – are produced to trip the biophysical mechanisms that change animal behavior.
Enviro Protection Industries Company, Inc. (EPIC), maker of America's Finest™ repellents, is the North America's premier natural, organic repellent company. Animal behavior, environmental systems, and the mechanisms of natural repellent substances drive the technology behind the development and production of EPIC's wide range of animal repellents.

Ecology anchors this technology. The intimate understanding of an animal's behavior – where and how it lives, how it travels and how it finds food – is the key starting point to effectively change its habits. Understanding climate, seasonality and changes in temperature and moisture are also crucial in determining how natural substances can affect an animal's behavior. That technological knowledge determines how long a repellent can last and how to extend a repellent's deterrence.
What makes an effective animal repellent? Only the highest grades of active, organic by-products, natural oils, herbal components and unique organic carriers deliver effective repellent compounds that act effectively, given a particular creature's biology and behavior, to change animal behavior without injury to the animal. To "repel," products must target animal instincts and senses through smell and taste, while also making their living habitat unlivable. Long-lasting effectiveness depends upon these animals – deer, rabbits, snakes, geese, moles, voles, cats, skunks, iguanas, armadillos, gophers, wild hogs and more – leaving the treated areas and remaining off the treated properties, never to return when land managers follow continued application programs.
It's important, too, that animal repellents apply to just one pest or target animal. Combining formulas for more than one species dilutes the effectiveness intended for a single animal. Animal species evolve individually to live within ranges that accommodate their needs for food and breeding, while also responding to rapidly changing conditions such as temperature, moisture levels and changes in vegetation. This permits them immediate prosperity and extension of their natural ranges even before genetics and evolution "hardwire" adaptations into their inherited biology. Repellents must respond safely to each animal's unique character and behavior.


EPIC's All Natural Professional line of granular animal repellents has been developed with the knowledge, expertise and commitment that delivers effective, easy-to-use, long-lasting, safe and environmentally sensitive products.
EPIC's Scram repellents are designed for the creature on the label, stand up with prolonged resiliency to wet weather, and emit no bad smells. EPIC's unique formulas are developed only with natural substances that change animal behavior within local ecosystems. The principles of ecology incorporate our core philosophy of protecting our environment using safe, natural substances to deter unwanted animal behavior.
See EPIC's entire line of All-Natural Professional animal repellents, view training videos and learn the costs of applications online at PestWeb.com.
---
View other articles in this category: