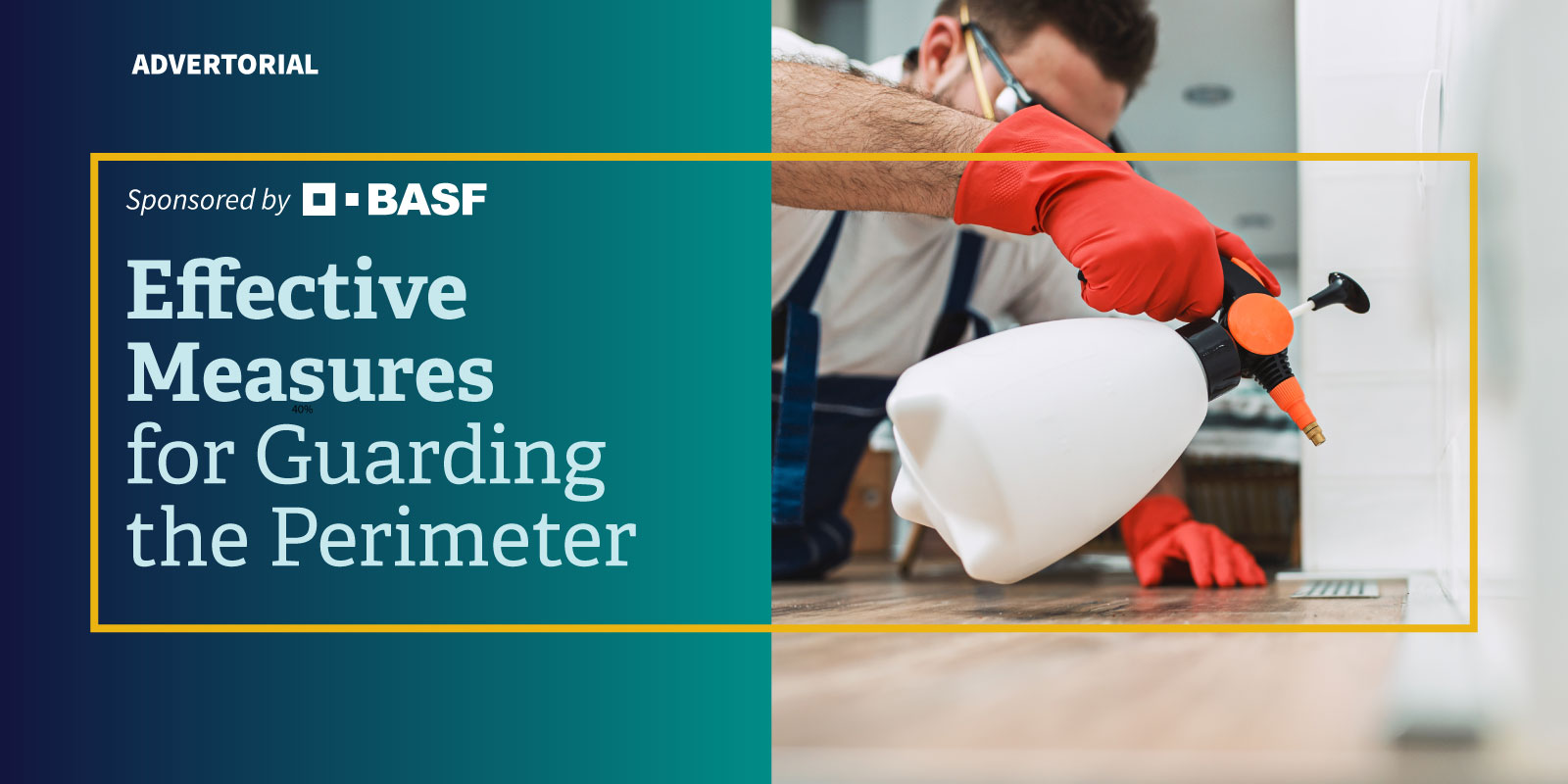 Dr. Freder Medina, B.C.E.
Technical Market Manager - Pest Control, BASF Professional & Specialty Solutions
2021 is starting out much like 2020, with many of us still working from home and many of our favorite outside activities curtailed. As people are forced to stay more at home, they become more aware of their surroundings and notice little things they may have missed before: a dead cockroach in the kitchen, ants in the bathroom, new spider webs in the garage, a scorpion in a shoe, termite frass under the eaves, or that rustling sound coming from the attic. Regardless of the unwelcome intruder, PMPs are at the ready to provide homeowners peace of mind by keeping pests from entering the house in the first place.
For PMPs who find themselves providing more exterior treatments than ever before, BASF has a new offering with you in mind: The Perimeter Pro Program. With a playbook of industry-leading solutions paired with unmatched service and expertise, it's a winning game plan.
Perimeter Pro offers informative quarterly webinars with our own leading experts, where you'll gain knowledge about BASF's portfolio of pest control solutions that can help you make the most informed decisions about bi-monthly and quarterly treatment protocols. As a participant in the program, you'll also be eligible for exclusive, early access to BASF's newest innovation, Ridesco™ WG Water Dispersible Granule insecticide, due to hit the market in late fall 2021.*
While Perimeter Pro will increase your knowledge about the best solutions to meet the specific needs of your customers, the most effective treatment protocols should always focus on integrated pest management (IPM). Each account is different, so technicians should always follow five basic rules of pest control: Inspection, Identification, Strategy Implementation, Homeowner Communication, and Evaluation and Follow- up.
Inspection:

During inspections, technicians must try to collect all relevant information about the account, including homeowner concerns and needs, high-activity areas, harborage areas, pest control history (if known), conducive conditions, and other signs of activity.

Identification:

Usually misinterpreted as identifying the species of the target pest(s), this step refers more to identify the pest(s) to the best of your knowledge. Look for signs that can help determine the best strategy; for example, is it an adult or immature, web builder or a hunter, flying or crawling, beneficial, stinging pest, ability to transmit diseases (health concern), lives and reproduces outdoors or indoors, nocturnal or diurnal, what is it feeding on, does it form colonies, nesting sites, etc.

Strategy Implementation:

After gathering all the previous information, it's time to put a plan together. Although every homeowner's common goal is to have a bug-free home, they all have different expectations and concerns. By following these four important keys - access denial, habitat and harborage, non-chemical (physical/mechanical) controls, and chemical controls - PMPs will be able to gain the upper hand over pests and meet and exceed the homeowner's expectations.

Homeowner Communication:

This is vitally important. It's the perfect time to tell customers about the services you performed, present any supporting documents with recommendations, share instructions going forward, and most importantly, set expectations. You can also educate your customers on how to prevent pest problems in the first place. When communicating with homeowners, always present information using clear terms – not industry lingo -- in a legible manner, which could also include pictures and diagrams. And always thank your customer.

Evaluation and Follow-Up:

This critical, final step involves setting up a schedule for follow-up inspections if needed; adjusting plans accordingly if the initial strategy didn't work; documenting and keeping all records, and making recommendations and explaining their importance. This is especially important if the homeowners didn't follow the previous instructions. As part of this step, analyze all variables and recommend other treatments schedule and/or options.
When you take advantage of BASF's new Perimeter Pro Program as part of an integrated pest management strategy, you'll see results in terms of pest problems under control, which means happier customers, which leads to new referrals. With Perimeter Pro and IPM, customers staying at home more in 2021 could result in a growing, more profitable business.
*Pending regulatory approval by the EPA and by state.
Ridesco is a trademark of BASF.
---
View other articles in this category: