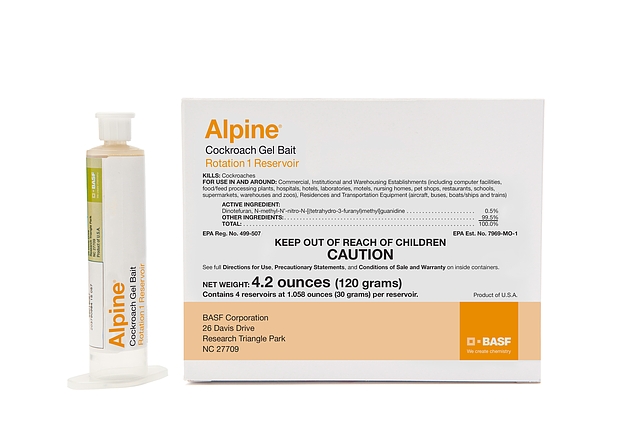 Alpine® Cockroach Gel Bait Rotation 1 Reservoir
Univar Product Code: 791899
Package Information: 4 x 30 GM/BOX
Unit of Measure: BOX
Manufacturer: BASF Professional Pest Control
This product is the same as Advance Cockroach gel but has been conveniently renamed for an easy bait rotation strategy.
Three Ways to Order
Buy Now

Visit a Procenter
Call (800) 888-4897
---
SDS & Labels
---
Product Details
Active Ingredient:

Dinotefuran 0.5%

Univar Product Code:
791899
Manufacturer:
BASF Professional Pest Control
Package information:
4 x 30 GM/BOX
Unit of Measure:
BOX
Target Pests:
View More Target Pests
Approved Sites:

Aircraft
Animal Care and Animal Care Facilities
Boats, Ships, and Barges
Commercial Structures
Exterior Surfaces of Structure
Food Handling Areas
Food Manufacturing & Processing Plants
Food Serving Establishments
Hospitals and Health Care Facilities
Hotels and Motels
Industrial Buildings and Warehouses
Laboratories
Non-food Areas
Non-Food Areas of Structures
Pet Stores
Public Modes of Transportation
Residential Structures
Roadway Vehicles
Schools – non-food areas
Single Family Dwellings
Structures and Immediate Surroundings
Supermarkets and Food Stores
Trains and Railcars
Zoos and Wildlife Parks
---
Additional Information
This product is the same as Advance Cockroach gel but has been conveniently renamed for an easy bait rotation strategy. Alpine Cockroach Gel Bait makes it easier than ever to show your customers you're controlling their roach problems and minimizing their health and allergy risk. With the Reduced Risk* active ingredient dinotefuran and a formulation free from the Big 8 Allergens, it's a smart choice for today's health and environmentally conscious customers.
Works great with Phantom® termiticide-insecticide and Prescription Treatment® brand Phantom® Pressurized Insecticide
Starts killing roaches within hours
Attractive to bait-averse cockroaches
Labeled for use in food handling areas
Available in reservoir or piston can
View More BASF Professional Pest Control Products
---
Product Reviews
After watching the german roach video I decided to try it on my own. I had captured several German and American roaches and had them isolated in a container. I then placed the the Alpine bait and monitored. After about 45 minutes, one german and American raoch had consumed the bait and both were on their back in about 15 minutes. I then placed 2 other baits (Advion & Maxforce) in there and all others went to the Advion and were all on their back within about 2 1/2 hours.
Please contact your local Univar ProCenter for availability. Not all products are available everywhere or registered in every state. Always read and follow label directions and precautions for use.