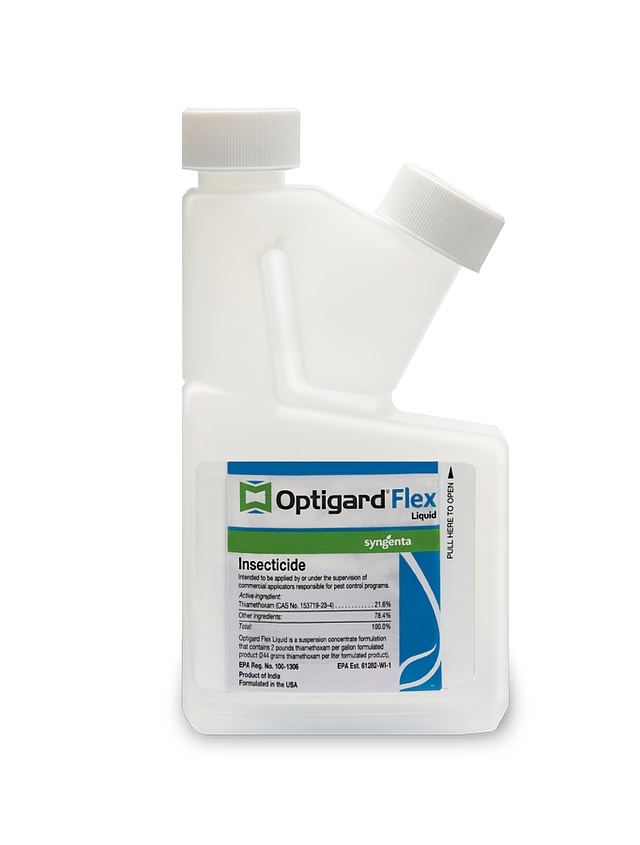 Optigard Flex Liquid Insecticide
Univar Product Code: 778854
Package Information: 8 OZ BT
Unit of Measure: BT
Manufacturer: Syngenta
Optigard® Flex liquid insecticide features a non-repellent chemistry with low use rates and flexible application methods to control pests. With the active ingredient, thiamethoxam, Optigard Flex is active against insects by both contact and ingestion and can be used both indoors and outdoors.
Three Ways to Order
Buy Now

Visit a Procenter
Call (800) 888-4897
---
SDS & Labels
---
Product Details
Univar Product Code:
778854
Manufacturer:
Syngenta
Package information:
8 OZ BT
Unit of Measure:
BT
Target Pests:
View More Target Pests
Approved Sites:

Attics
Basements
Beverage and Bottling Plants
Canneries
Commercial Structures
Crawlspaces
Dairies
Exterior Landscaped Settings
Exterior Surfaces of Structure
Exterior Wood Constructions
Floor Drains
Food Handling Areas
Food Manufacturing & Processing Plants
Food Serving Establishments
Grain and Nut Production or Storage
Non-food Areas
Non-Food Areas of Structures
Non-food-bearing Plants
Residential Structures
Structures and Immediate Surroundings
Termite Control
Trees, Shrubs, and Foliage Plants
Waste and Garbage Sites
Wood-In-place
---
Additional Information
Pest Management Professionals (PMPs) can receive yearlong rebates on purchases of Optigard Flex with the PestPartners™ 365 Program.
Benefits of being a PestPartners 365 Program member:
No sign-up or program forms required to participate and earn rebates
Yearlong rebates are available on all product purchases through the end of the year
Save on a portfolio of products for all your pest control needs
For more information about the program, visit www.PestPartners365.com.
---
Other Documents
---
Product Reviews
Works Amazing! I love the formulation and its easy to use measuring spout! One of my favorite products. If you haven't tried this out, you should give it a shot at least once, you will love it!
Please contact your local Univar ProCenter for availability. Not all products are available everywhere or registered in every state. Always read and follow label directions and precautions for use.