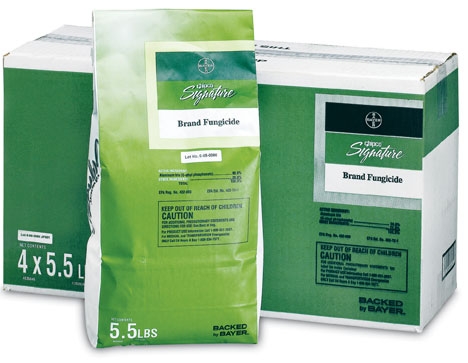 Chipco Signature Wdg
Univar Product Code: 678563
Package Information: 5.5 LB BG
Unit of Measure: BAG
Manufacturer: Bayer
Chipco Signature is different from other fungicides in that it is truly systemic, traveling up and down within the plant. This product is the foundation turf fungicide for disease management and turf quality in every season. Chipco Signature protects turf from stresses during summer and winter decline, and it improves turf quality – color, density, vigor, uniformity and playability.
Three Ways to Order
Buy Now

Visit a Procenter
Call (800) 888-4897
---
SDS & Labels
---
Product Details
Active Ingredient:

Aluminum tris 80%

Univar Product Code:
678563
Manufacturer:
Bayer
Package information:
5.5 LB BG
Unit of Measure:
BAG
Approved Sites:

Commercial Turf – Sod Farms
Exterior Landscaped Settings
Golf Courses
Turf
---
Additional Information
Proven improvement in turf quality during stress periods
Unsurpassed turf quality
Helps turf "self manage" stress
Provides Pythium control
Tank mix options with many fungicides
No disease resistance for more than 20 years
ACTIVE INGREDIENT: Aluminum tris (O-ethyl phosphonate)...80.0%
OTHER INGREDIENTS: ......................................................20.0%
Total 100.0%
---
Product Reviews
There are no reviews for this product.
Please contact your local Univar ProCenter for availability. Not all products are available everywhere or registered in every state. Always read and follow label directions and precautions for use.