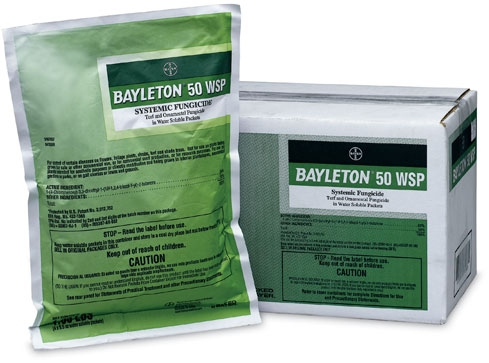 Bayleton 50 Wsp
Univar Product Code: 666791
Package Information: 4 x 5.5 OZ PK/BAG
Unit of Measure: BAG
Manufacturer: Bayer
Bayleton 50 is a systemic (acropetal penetrant) fungicide that is absorbed by roots. Its broad spectrum activity and residual control make it easy to fight most turf diseases.
Three Ways to Order
Buy Now

Visit a Procenter
Call (800) 888-4897
---
SDS & Labels
---
Product Details
Active Ingredient:

Triadimefon 50%

Univar Product Code:
666791
Manufacturer:
Bayer
Package information:
4 x 5.5 OZ PK/BAG
Unit of Measure:
BAG
Approved Sites:

Commercial Structures
Exterior Landscaped Settings
Golf Courses
Interiorscapes and Interior Plantings
Non-food-bearing Plants
Recreational Turf – Parks and Playgrounds
Residential and Landscape Turf
Structures and Immediate Surroundings
Trees, Shrubs, and Foliage Plants
Turf
---
Additional Information
Broad-spectrum disease control
Unsurpassed dollar spot control
14- to 28-day residual
Ideal for golf courses and many ornamental diseases
Convenient premeasured water-soluble packets
---
Product Reviews
There are no reviews for this product.
Please contact your local Univar ProCenter for availability. Not all products are available everywhere or registered in every state. Always read and follow label directions and precautions for use.