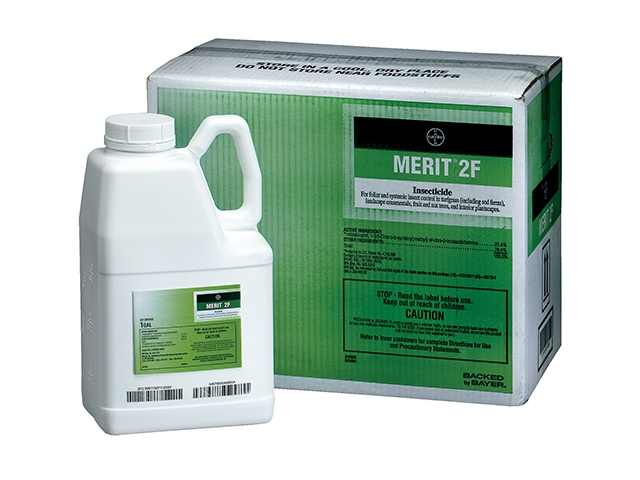 Merit 2f Insecticide
Univar Product Code: 716793
Package Information: 1 GL JG
Unit of Measure: GL
Manufacturer: Bayer
Merit 2 F provides the industry's longest-lasting grub control at exceptionally low use rates. This product gives outstanding residual control of numerous ornamental pests – it interferes with nerve impulses and disrupts insect behavior. Pests stop feeding, stop reproducing, and eventually die.
Three Ways to Order
Buy Now

Visit a Procenter
Call (800) 888-4897
---
SDS & Labels
---
Product Details
Active Ingredient:

Imidacloprid 21.4%

Univar Product Code:
716793
Manufacturer:
Bayer
Package information:
1 GL JG
Unit of Measure:
GL
Target Pests:
View More Target Pests
Approved Sites:

Airports
Cemeteries
Commercial Turf – Sod Farms
Exterior Landscaped Settings
Food-bearing Trees and Other Plants
Golf Courses
Interiorscapes and Interior Plantings
Non-food-bearing Plants
Recreational Turf – Parks and Playgrounds
Residential and Landscape Turf
Sports Turf or Athletic Fields
Trees, Shrubs, and Foliage Plants
Turf
---
Additional Information
The No. 1 insecticide in the turf and ornamental market
Broad-spectrum systemic action
Outstanding preventive grub control
Long residual activity
Wide application window
Controls all major grub species
ACTIVE INGREDIENT:
*Imidacloprid,1-[(6-Chloro-3-pyridinyl) methyl]-
N-nitro-2-imidazolidinimin .................................... 21.4%
OTHER INGREDIENTS: ......................................... 78.6%
TOTAL: 100.0%
---
Product Reviews
There are no reviews for this product.
Please contact your local Univar ProCenter for availability. Not all products are available everywhere or registered in every state. Always read and follow label directions and precautions for use.