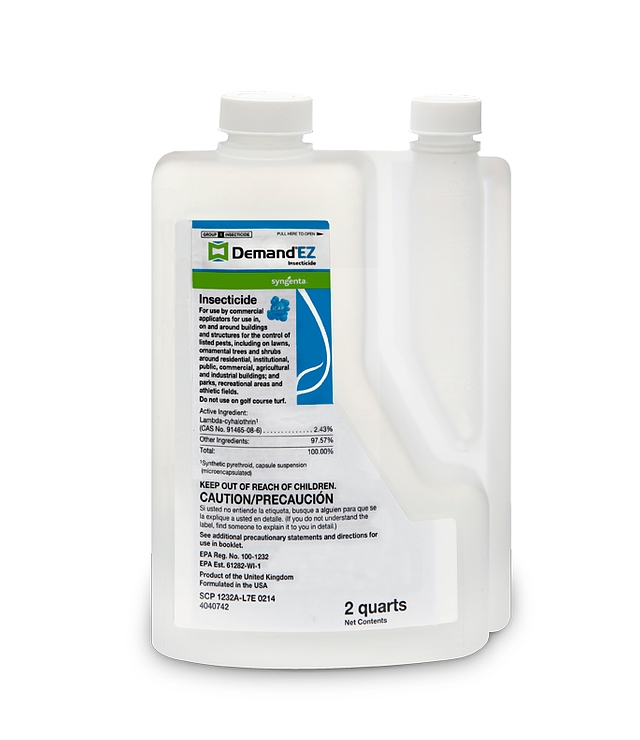 Demand EZ Insecticide
Univar Product Code: 755537
Package Information: 1/2 GL JG
Unit of Measure: JUG
Manufacturer: Syngenta
Demand® EZ insecticide with iCAP™ technology is an advanced generation, proven product with a unique microencapsulated formulation that offers outstanding protection against numerous perimeter insect pests. Demand EZ has an easy-to-measure formulation, lessening the financial impact of product spills or overuse.
Three Ways to Order
Buy Now

Visit a Procenter
Call (800) 888-4897
---
SDS & Labels
---
Product Details
Univar Product Code:
755537
Manufacturer:
Syngenta
Package information:
1/2 GL JG
Unit of Measure:
JUG
Target Pests:
View More Target Pests
Approved Sites:

Aerial Carton or Other Nests
Aircraft
Animal Care and Animal Care Facilities
Beverage and Bottling Plants
Boats, Ships, and Barges
Canneries
Cars and Trucks
Commercial Structures
Correctional Facilities
Dairies
Decks and Deck Area
Exterior Areas Around Structures
Exterior Landscaped Settings
Exterior Surfaces of Structure
Exterior Wood Constructions
Fences and Fencelines
Floor Drains
Food Handling Areas
Food Manufacturing & Processing Plants
Food Serving Establishments
Grain and Nut Production or Storage
Hospitals and Health Care Facilities
Hotels and Motels
Industrial Buildings and Warehouses
Interiorscapes and Interior Plantings
Laboratories
Livestock and Farm Animal Facilities
Man-holes, Sewers, and Underground Passages
Mausoleums and Mortuaries
Multiple Family Dwellings
Non-food Areas
Non-Food Areas of Structures
Non-food-bearing Plants
Offices
Pet Kennels
Poultry Facilities
Public Modes of Transportation
Recreational Turf – Parks and Playgrounds
Residential and Landscape Turf
Residential Structures
Roadway Vehicles
Schools – non-food areas
Shipping Containers
Single Family Dwellings
Sports Turf or Athletic Fields
Stores and Shopping Malls
Structures and Immediate Surroundings
Trains and Railcars
Trees, Shrubs, and Foliage Plants
Turf
Waste and Garbage Sites
Wineries or Breweries
Wood-In-place
---
Additional Information
Pest Management Professionals (PMPs) can receive yearlong rebates on purchases of Demand EZ with the PestPartners™ 365 Program.
Benefits of being a PestPartners 365 Program member:
No sign-up or program forms required to participate and earn rebates
Yearlong rebates are available on all product purchases through the end of the year
Save on a portfolio of products for all your pest control needs
For more information about the program, visit www.PestPartners365.com.
---
Other Documents
---
Product Reviews
There are no reviews for this product.
Please contact your local Univar ProCenter for availability. Not all products are available everywhere or registered in every state. Always read and follow label directions and precautions for use.