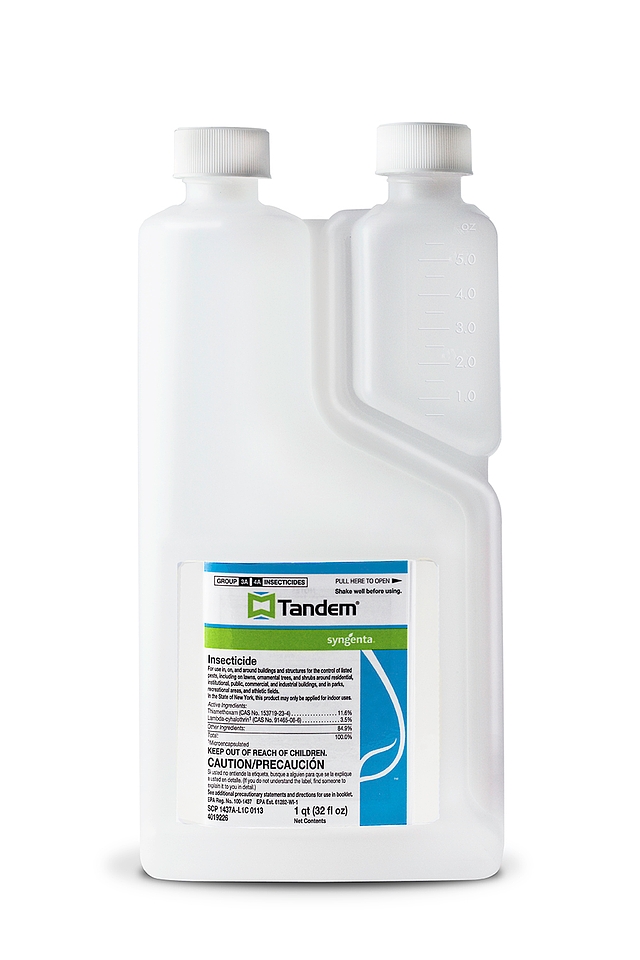 Tandem Insecticide
Univar Product Code: 804686
Package Information: 1 QT
Unit of Measure: BT
Manufacturer: Syngenta
Tandem® insecticide provides pest control from "cupboard to curb" with its broad and flexible label. Tandem is labeled to control more than 90 pests and can be applied indoors and outdoors, and in residential and commercial environments including food-handling areas, as directed by the product label. Tandem is powered by two active ingredients, lambda-cyhalothrin and thiamethoxam, and is formulated with iCAP™ technology to ensure quick knock down and long-lasting residual for complete control.
Three Ways to Order
Buy Now

Visit a Procenter
Call (800) 888-4897
---
SDS & Labels
---
Product Details
| | |
| --- | --- |
| Univar Product Code: | 804686 |
| Manufacturer: | Syngenta |
| Package information: | 1 QT |
| Unit of Measure: | BT |
---
Additional Information
Pest Management Professionals (PMPs) can receive yearlong rebates on purchases of Tandem with the PestPartners™ 365 Program.
Benefits of being a PestPartners 365 Program member:
No sign-up or program forms required to participate and earn rebates
Yearlong rebates are available on all product purchases through the end of the year
Save on a portfolio of products for all your pest control needs
For more information about the program, visit www.PestPartners365.com.
---
Other Documents
---
Product Reviews
There are no reviews for this product.
Please contact your local Univar ProCenter for availability. Not all products are available everywhere or registered in every state. Always read and follow label directions and precautions for use.