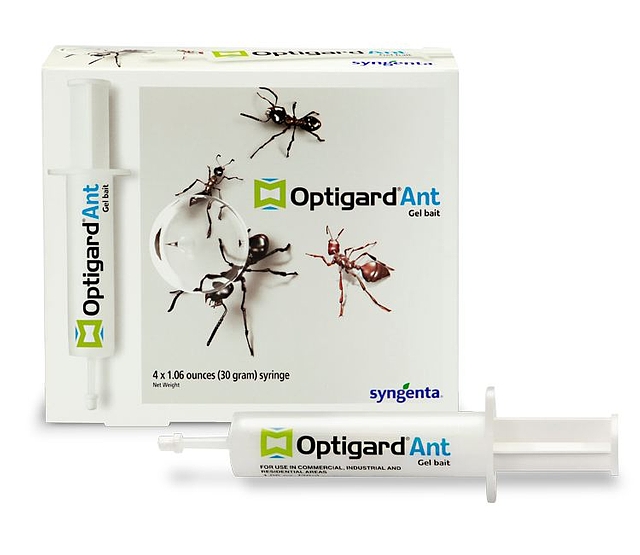 Optigard Ant Gel Bait
Univar Product Code: 758362
Package Information: 4 X 30 GM/BX
Unit of Measure: BOX
Manufacturer: Syngenta
Optigard® Ant gel bait, powered by the active ingredient thiamethoxam, offers unparalleled control of a broad spectrum of ants. This clear, odorless bait has an extremely palatable formula that results in maximum control.
Three Ways to Order
Buy Now

Visit a Procenter
Call (800) 888-4897
---
SDS & Labels
---
Product Details
Univar Product Code:
758362
Manufacturer:
Syngenta
Package information:
4 X 30 GM/BX
Unit of Measure:
BOX
Target Pests:
View More Target Pests
Approved Sites:

Aircraft
Attics
Beverage and Bottling Plants
Boats, Ships, and Barges
Canneries
Commercial Structures
Crawlspaces
Dairies
Exterior Areas Around Structures
Exterior Surfaces of Structure
Food Handling Areas
Food Manufacturing & Processing Plants
Food Serving Establishments
Grain and Nut Production or Storage
Hospitals and Health Care Facilities
Hotels and Motels
Industrial Buildings and Warehouses
Multiple Family Dwellings
Non-food Areas
Non-Food Areas of Structures
Public Modes of Transportation
Residential Structures
Roadway Vehicles
Schools – non-food areas
Single Family Dwellings
Structures and Immediate Surroundings
Supermarkets and Food Stores
Trains and Railcars
---
Additional Information
Pest Management Professionals (PMPs) can receive yearlong rebates on purchases of Optigard Ant gel bait with the PestPartners™ 365 Program.
Benefits of being a PestPartners 365 Program member:
No sign-up or program forms required to participate and earn rebates
Yearlong rebates are available on all product purchases through the end of the year
Save on a portfolio of products for all your pest control needs
For more information about the program, visit www.PestPartners365.com.
---
Other Documents
---
Please contact your local Univar ProCenter for availability. Not all products are available everywhere or registered in every state. Always read and follow label directions and precautions for use.