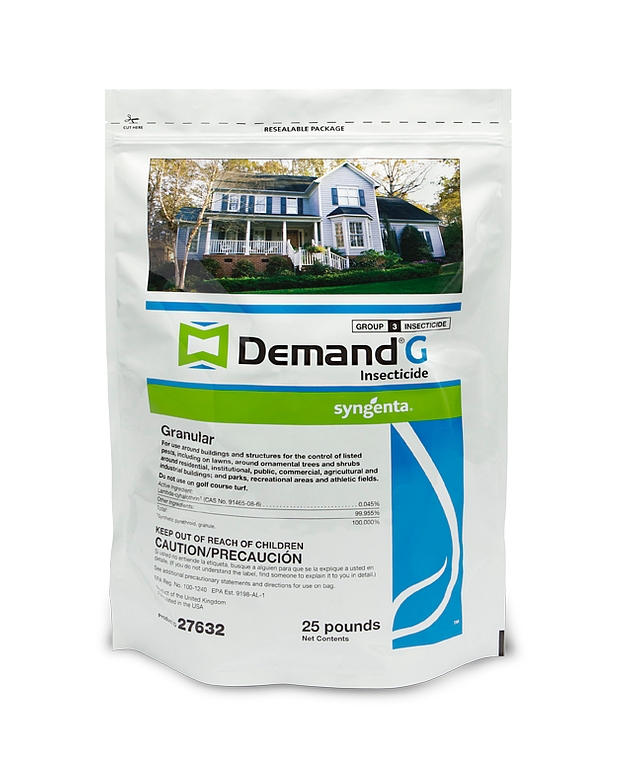 Demand G Insecticide
Univar Product Code: 751665
Package Information: 25 LB BAG
Unit of Measure: LB
Manufacturer: Syngenta
Demand® G insecticide is formulated differently than any other granule to make the active ingredient, lambda-cyhalothrin, more readily available to a wide variety of targeted pests. Demand G is labeled for lawn, landscape and perimeter use to control nearly 30 pests, including several species of ants.
Three Ways to Order
Buy Now

Visit a Procenter
Call (800) 888-4897
---
SDS & Labels
---
Product Details
Univar Product Code:
751665
Manufacturer:
Syngenta
Package information:
25 LB BAG
Unit of Measure:
LB
Target Pests:
View More Target Pests
Approved Sites:

Commercial Structures
Exterior Areas Around Structures
Exterior Landscaped Settings
Interiorscapes and Interior Plantings
Recreational Turf – Parks and Playgrounds
Residential and Landscape Turf
Residential Structures
Sports Turf or Athletic Fields
Structures and Immediate Surroundings
Tree Trunks & Around Plantings
Turf
---
Additional Information
Pest Management Professionals (PMPs) can receive yearlong rebates on purchases of Demand G with the PestPartners™ 365 Program.
Benefits of being a PestPartners 365 Program member:
No sign-up or program forms required to participate and earn rebates
Yearlong rebates are available on all product purchases through the end of the year
Save on a portfolio of products for all your pest control needs
For more information about the program, visit www.PestPartners365.com.
---
Other Documents
---
Product Reviews
There are no reviews for this product.
Please contact your local Univar ProCenter for availability. Not all products are available everywhere or registered in every state. Always read and follow label directions and precautions for use.