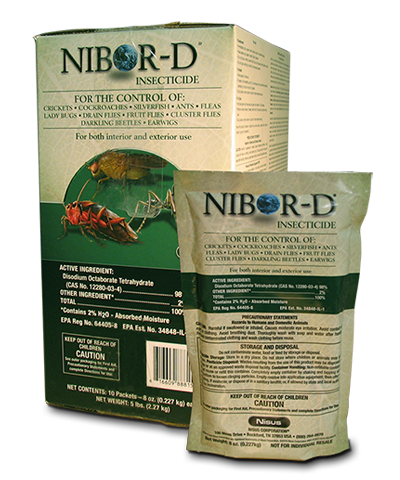 Nibor-d Packets 10x8oz/bx
Univar Product Code: 827426
Package Information: 4bx/cs 30418
Unit of Measure: BX
Manufacturer: Nisus Corporation
Nibor-D packets are convenient single-use 8 oz. packets which come in a box of 10 total packets. Single-use packets give you great inventory control, insure accurate measuring and help eliminate potential spills and drift. Simply use: • 1 packet per gallon for a 5% solution • 2 packets per gallon for a 10% solution • 3 packets per gallon for a 15% solution
Three Ways to Order
Buy Now

Visit a Procenter
Call (800) 888-4897
---
SDS & Labels
---
Product Details
| | |
| --- | --- |
| Active Ingredient: | DOT (Disodium Octaborate Tetrahydrate) 98% |
| Univar Product Code: | 827426 |
| Manufacturer: | Nisus Corporation |
| Package information: | 4bx/cs 30418 |
| Unit of Measure: | BX |
---
Additional Information
Nibor-D is great for dusting wall voids and attics, using in a liquid formulation for general pests and using as a drain foam and mop solution in commercial kitchens. Pest companies around the country are getting control in the toughest commercial accounts because Nibor-D turns food debris left behind due to poor sanitization into a borate bait that helps them achieve and maintain control.
---
Other Documents
View More Nisus Corporation Products
---
Product Reviews
There are no reviews for this product.
Please contact your local Univar ProCenter for availability. Not all products are available everywhere or registered in every state. Always read and follow label directions and precautions for use.