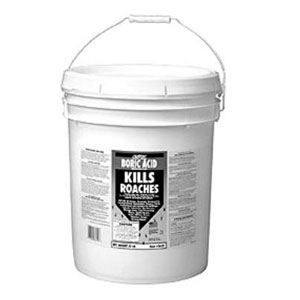 Answer Boric Acid Dust
Univar Product Code: 682373
Package Information: 25 LB pl
Unit of Measure: LB
Manufacturer: J.T. Eaton & Company
Effective control of roaches, Palmetto bugs, ants, silverfish, fleas and other insects listed on the label.
Three Ways to Order
Buy Now

Visit a Procenter
Call (800) 888-4897
---
SDS & Labels
---
Product Details
Active Ingredient:

Orthoboric Acid 99%

Univar Product Code:
682373
Manufacturer:
J.T. Eaton & Company
Package information:
25 LB pl
Unit of Measure:
LB
Target Pests:
View More Target Pests
Approved Sites:

Aircraft
Airports
Airports and Train Stations
Amusement Parks
Animal Care and Animal Care Facilities
Animal Feed Production or Storage
Animal Holding Structures
Animal Hospitals
Attics
Aviaries
Bakeries
Banks of Watercourses and Bodies of Water
Basements
Beverage and Bottling Plants
Boat Docks and Piers
Boats, Ships, and Barges
Campgrounds
Canneries
Cars and Trucks
Child Care Facilities
Commercial Lots and Power Stations
Commercial Structures
Correctional Facilities
Crawlspaces
Dairies
Decks and Deck Area
Dried Fruit Production or Storage
Exterior Areas Around Structures
Exterior Non-landscaped settings
Exterior Surfaces of Structure
Floor Drains
Floor Drains
Food Handling Areas
Food Manufacturing & Processing Plants
Food Serving Establishments
Grain and Nut Production or Storage
Greenhouses and Indoor Nurseries
Hospitals and Health Care Facilities
Hotels and Motels
Industrial Buildings and Warehouses
Laboratories
Livestock and Farm Animal Facilities
Man-holes, Sewers, and Underground Passages
Mausoleums and Mortuaries
Meat, Poultry, Egg Production
Multiple Family Dwellings
Museums
Mushroom Farms & Processing
Non-food Areas
Non-Food Areas of Structures
Nurseries and Greenhouses
Nurseries and Greenhouses
Offices
Pet Kennels
Pet Kennels and Runs
Pet Stores
Poultry Facilities
Public Modes of Transportation
Residential Structures
Roadway Vehicles
Schools – non-food areas
Shipping Containers
Single Family Dwellings
Sports Facilities
Stores and Shopping Malls
Structures and Immediate Surroundings
Supermarkets and Food Stores
Theaters and Entertainment Facilities
Tobacco Processing & Storage
Trains and Railcars
Waste and Garbage Sites
Waste Containers
Wineries or Breweries
Zoos and Wildlife Parks
View More J.T. Eaton & Company Products
---
Product Reviews
There are no reviews for this product.
Please contact your local Univar ProCenter for availability. Not all products are available everywhere or registered in every state. Always read and follow label directions and precautions for use.