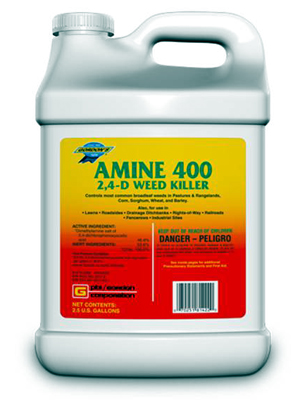 Amine 400 2,4-d Herb
Univar Product Code: 624637
Package Information: 2.5 GL
Unit of Measure: JUG
Manufacturer: PBI Gordon Corp.
Three Ways to Order
Buy Now

Visit a Procenter
Call (800) 888-4897
---
SDS & Labels
---
Product Details
Univar Product Code:
624637
Manufacturer:
PBI Gordon Corp.
Package information:
2.5 GL
Unit of Measure:
JUG
Target Pests:
View More Target Pests
Approved Sites:

Banks of Watercourses and Bodies of Water
Commercial Lots and Power Stations
Exterior Areas Around Structures
Exterior Landscaped Settings
Exterior Non-landscaped settings
Fences and Fencelines
Open Fields and Pastures
Railroads and Rights-of-Way
Recreational Turf – Parks and Playgrounds
Residential and Landscape Turf
Roadsides and Median Strips
Turf
Wooded Areas
View More PBI Gordon Corp. Products
---
Product Reviews
There are no reviews for this product.
Please contact your local Univar ProCenter for availability. Not all products are available everywhere or registered in every state. Always read and follow label directions and precautions for use.