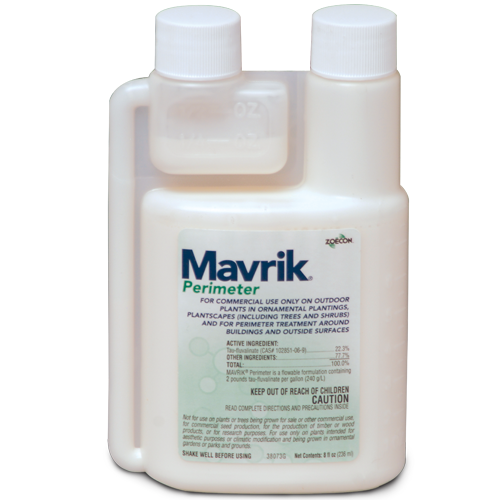 Mavrik Perimeter
Univar Product Code: 417560
Package Information: 12x8ozBT/cs
Unit of Measure: BT
Manufacturer: Zoecon
Mavrik® Perimeter To prevent insect infestations, it's important to remove unwanted pests from the perimeter, before they find a way in. Mavrik® is a perimeter insecticide, containing tau-fluvalinate, providing immediate knockdown power without harming ornamental plants or shrubbery. Active Ingredients: Tau-fluvalinate (CAS #102851-06-9) 22.3% Controls: Mosquitoes, ants, spiders, ticks, springtails, cockroaches, fire ants for perimeter treatment and other listed pests Application This easy-to-use barrier treatment, is ideal for use around residential and commercial buildings and outside surfaces. With no visible residue or lingering odor, Mavrik® is a great option for treating lawns, gardens and trees, without having to worry about watering in. Benefits Small, easy-to-use 8 oz. bottle Dried residues are non-toxic to bees Perimeter treatment Immediate knockdown of ants and mosquitoes Available Product Sizes 8 oz bottle EPA Reg. #2724-478
Three Ways to Order
Buy Now

Visit a Procenter
Call (800) 888-4897
---
SDS & Labels
---
Product Details
Active Ingredient:

Tau-fluvalinate 22.3%

Univar Product Code:
417560
Manufacturer:
Zoecon
Package information:
12x8ozBT/cs
Unit of Measure:
BT
Target Pests:
View More Target Pests
Approved Sites:

Exterior Areas Around Structures
Exterior Landscaped Settings
Exterior Surfaces of Structure
Non-food-bearing Plants
Structures and Immediate Surroundings
Tree Trunks & Around Plantings
Trees, Shrubs, and Foliage Plants
---
Additional Information
Mavrik® Perimeter contains the pyrethroid fluvalinate, which provides quick knockdown of pests. It is a broad spectrum pyrethroid that controls an array of pests that infest areas around the perimeter of residential and commercial buildings.
Target Pests = mosquitoes, ants, spiders, ticks, springtails, cockroaches and fire ants for perimeter treatment
- For use around outside surfaces and around buildings (perimeter treatment).
- Immediate knockdown of a variety of insects including ant and mosquitoes outdoors.
- No visible residue or lingering odor.
- Dried residues are non-toxic and non-repellent to honeybees.
---
Other Documents
---
Product Reviews
There are no reviews for this product.
Please contact your local Univar ProCenter for availability. Not all products are available everywhere or registered in every state. Always read and follow label directions and precautions for use.