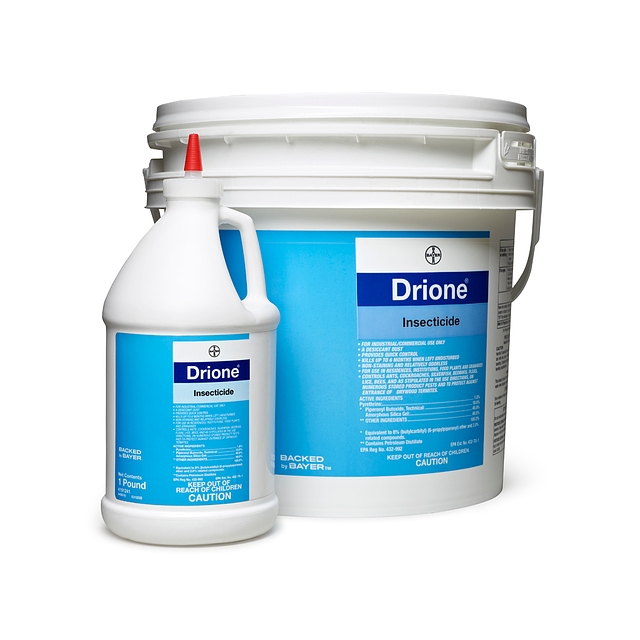 Drione Dust
Univar Product Code: 405440
Package Information: 7 LB PL
Unit of Measure: LB
Manufacturer: Bayer
Drione Dust is a powerful silica-based dessicant dust with synergized natural pyrethrum. This product can be used to control pests in commercial and industrial areas, including within food areas as a crack-and-crevice treatment. It also is effective in controlling bedbugs when applied to the inner frame of upholstered furniture.
Three Ways to Order
Buy Now

Visit a Procenter
Call (800) 888-4897
---
SDS & Labels
---
Product Details
Active Ingredients:

amorphous silica Dioxde 40%

Piperonyl butoxide 10%

Pyrethrins 1%

Univar Product Code:
405440
Manufacturer:
Bayer
Package information:
7 LB PL
Unit of Measure:
LB
Target Pests:
View More Target Pests
Approved Sites:

Animal Care and Animal Care Facilities
Attics
Bakeries
Basements
Beverage and Bottling Plants
Cars and Trucks
Crawlspaces
Exterior Landscaped Settings
Exterior Non-landscaped settings
Food Handling Areas
Food Manufacturing & Processing Plants
Food Serving Establishments
Grain and Nut Production or Storage
Hospitals and Health Care Facilities
Hotels and Motels
Industrial Buildings and Warehouses
Man-holes, Sewers, and Underground Passages
Meat, Poultry, Egg Production
Non-food Areas
Non-Food Areas of Structures
Offices
Pet Kennels
Residential and Landscape Turf
Residential Structures
Roadway Vehicles
Schools – non-food areas
Shipping Containers
Single Family Dwellings
Structures and Immediate Surroundings
Supermarkets and Food Stores
Termite Control
Theaters and Entertainment Facilities
Trains and Railcars
Turf
Wood-In-place
---
Additional Information
For complete information on areas of usage and directions, please see the .pdf label near the top of this page.
---
Product Reviews
There are no reviews for this product.
Please contact your local Univar ProCenter for availability. Not all products are available everywhere or registered in every state. Always read and follow label directions and precautions for use.