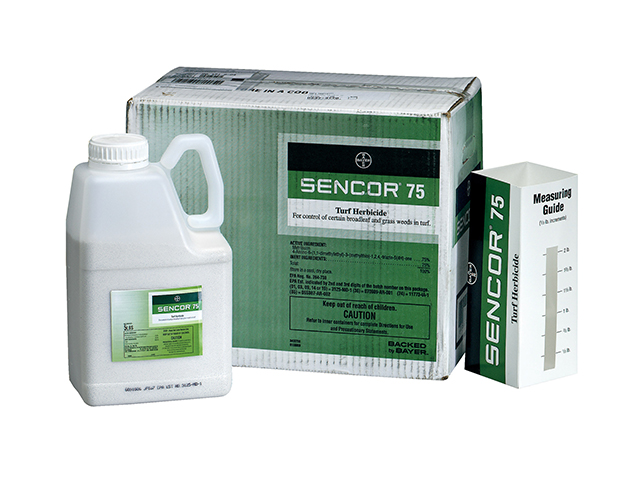 Sencor 75% Herb
Univar Product Code: 427400
Package Information: 5 LB JG
Unit of Measure: LB
Manufacturer: Bayer
Sencor 75 offers highly effective control of tough weeds in dormant and actively growing bermudagrass turf. One post-emergent application of Sencor in the spring typically provides control through the fall.
Three Ways to Order
Buy Now

Visit a Procenter
Call (800) 888-4897
---
SDS & Labels
---
Product Details
Active Ingredient:

Metribuzin 75%

Univar Product Code:
427400
Manufacturer:
Bayer
Package information:
5 LB JG
Unit of Measure:
LB
Target Pests:
View More Target Pests
Approved Sites:

Cemeteries
Exterior Landscaped Settings
Golf Courses
Recreational Turf – Parks and Playgrounds
Sports Turf or Athletic Fields
Turf
---
Additional Information
Broad-spectrum weed control
Highly effective in control of goosegrass
Long-lasting control
Nonthreatening to established bermudagrass
Great tank-mix option
ACTIVE INGREDIENT: Metribuzin, 4-Amino-6-(1,1-dimethylethyl)- 3-(methylthio)-1,2,4-triazin-5(4H)-one .................... 75%
INERT INGREDIENTS:............... 25%
100%
---
Product Reviews
There are no reviews for this product.
Please contact your local Univar ProCenter for availability. Not all products are available everywhere or registered in every state. Always read and follow label directions and precautions for use.