Thursday September 1, 2011
Are You Looking For Pest Control Continuing Education Credits?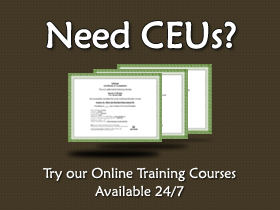 Univar and Master Technician may be able to offer you up to 50 hours of approved online training in a variety of license categories. At this time we have CEU approval from 33 states and the Province of Alberta in Canada. In three states the Master Technician courses are approved for both Structural and Agricultural licenses.
In nearly every state all 50 of the Master Technician courses are approved for CE hours, and if you are licensed in multiple states or have both a structural and agricultural license you can receive credit for each license as you successfully complete any course where that state or agency has approved the course. Access to Master Technician requires a Password that identifies you as the attendee of the courses, and you can request this password by selecting the blue "Register" button near the top of the page.
Try this today and begin to appreciate the convenience of the online training PestWeb provides, along with some quality education on many important pest management and safety topics. Master Technician is available 24 hours a day, 7 days a week all year long, and is done entirely online from start to finish, including an electronic Certificate of Completion in all states except New York.

Click on your state for information on our CEU courses: